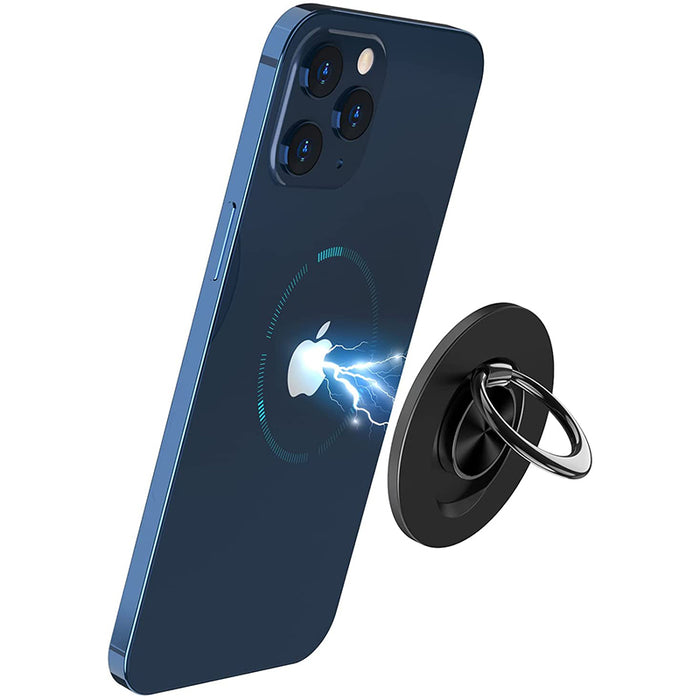 Magnetic Ring Holder Removable Phone Grip for iPhone 12/13 Mini Pro Max
[Upgraded with a metal rivet rotating joint]:
We have upgraded our "MagRing" with Version 2 which checks a lot of boxes in one design! With this special accessory only for iPhone12/iPhone 13 Series, you use MagSafe charging and phone ring holder grip at the same time. Compatible with MagSafe charger, MagSafe cases, and iphone 12,
iphone 
12 mini,
iphone 
12 Pro, and
iphone
Pro Max,iP
hone 13,iPhone 13 MiNi,iPhone 13 Pro,iPhone 13 Pro Max.
[High Quality and Better Grip]:
This MagSafe phone ring is made of aviation quality aluminum alloy metal, strong built-in magnets, and adjustable phone kickstand. The problem with Version 1 was identified and we upgraded this simple but important accessory to Version 2 that comes with a rivet metal pin in the middle. It will not have the separation problem like the Version 1 did before!
[Adjustable stand & Better Grip]:
With this removable iPhone 12/13 ring holder, you will have a much better grip with your iPhone12/13 that your thumb will be able to reach farther when you put your index finger through the ring holder, especially for iPhone12/13 Pro Max users. The ring holder can serve you as an adjustable kickstand providing the perfect angle you want, and this accessory is not permanent and removable whenever you need to charge with MagSafe charger.
[Compatible with MagSafe]:
Charging is so much easier with MagSafe charger and this is a perfect solution if you are looking for a removable phone ring stand. The built-in magnets are strong but not affecting the phone signal and MagSafe wireless charging.
[Slim Design & Light-weight]:
This stand is only 1 oz and fully collapsible to compact pocket size, easy to carry around in your back pocket or bag